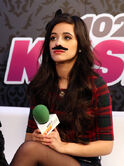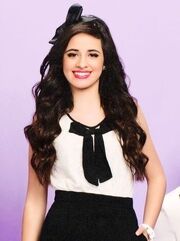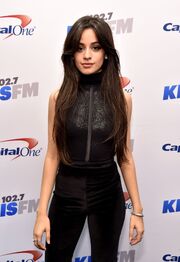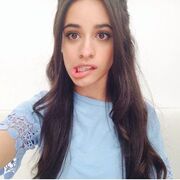 Camila is obsessed with banananas.
Her height is 5 ft 2 in or 157.5 cm
Camila wears a shoe of size 6.5 (US).
Camila started to play the piano in 2018.
She likes sticky buns and Hostess food.
Camila's Cuban on Sinu's side & Mexican on Alejandro's side.
Camila's style icon is Audrey Hepburn
Camila loves food (especially Pizza and chicken nuggets).
Her favorite pizza is thick crust with lots of tomato sauce and pineapple.
She has a little sister named Sofia Cabello.
Her dream duet is Ed Sheeran
She's Cuban on her mom's side and Mexican on her dad's side.
She can't ride a two-wheeler bicycle.
Camila loves her onesie.
Camila supports the Brazil football team.
Her favorite sport is football.
Camila is seen wearing a bow in all her X Factor performances except on her second performance of "Impossible".
Camila is really good to her fans and says things to help them with their troubles.
She hates when people are rude and cruel to other people for no reason.
She wanted to name Fifth Harmony's first album Booty Pop Madness or Twerk Team.
Her favorite songs from One Direction's Up All Night album is More Than This and Same Mistakes.
Her mother once made her take tennis classes, but Camila claims she was no good.
She claims Harmonizers are the most important thing to her, even more than One Direction and food.
Her favorite songs from One Direction's Take Me Home album is Over Again and They Don't Know About Us.
She attended virtual school after she was put in Fifth Harmony.
She was known as the fangirl of Fifth Harmony.
She moved to America when she was 6 years old.
She was born in Cojimar, Cuba.
She was born at 9 am.
Camila is seen wearing a bow in all her X Factor performances except on her second performance of "Impossible".
In just 11 months of Camila's solo career, she has won a total of 18 awards.
She loves One Direction and had a Twitter fan account before she was famous.
She started singing in the 7th grade.
She reached 300K followers on Twitter on January 12th, 2013.
She said "pry" instead of cry when she was introducing Demi Lovato in their X Factor finals performance of Give Your Heart A Break.
She didn't speak English when she first moved to the US.[1]
She loves Harry Potter.[1]
She once went skinny dipping in Puerto Rico.[1]
She loves coconut water.[1]
When she was 15, she had a fan account with things about Niall Horan.
Her favorite movie is Avatar
Her favorite Disney movie is Peter Pan
Her favorite Snapchat filter is high pitched dear.
She watches Pretty Woman four times a week.
She has a fear of sharks.
She reached 50.3M on Instagram on July 24th, 2020.
References
Edit
Community content is available under
CC-BY-SA
unless otherwise noted.