Matthew Hussey (born June 19, 1987) is a British television personality, human dynamics coach, and New York Times Bestselling author. He also posts regularly on YouTube.
On Feburary 9, 2018, Hussey was romantically linked to singer Camila Cabello after E! News released pictures of the pair kissing in México.[1]
Relationship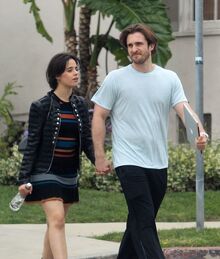 On February 9, 2018, Camila was photographed with Hussey at the beach in Mexico.[1] He also assisted on Cabello's Never Be The Same Tour in Los Angeles.
Break up
On June 26, 2019 it was reported that Cabello and Hussey had ended their relationship.[2] According to a source close to Cabello, her "relationship with Matthew had run its course and they decided to break up about a fortnight ago."[3] They remain friends.
Gallery
References