Sabrina Annlynn Carpenter is an American actress and singer. She is also a feminist and is constantly spreading her opinion through social media.
Camila and Sabrina have a picture on RDMAs 2014 with Rowan and other members of Fifth Harmony.
Sabrina posted a picture of her with Fifth Harmony on November 2014 with a caption of "So good to see you girls😊 xx @dinahjane97 @camilacabello97 @LaurenJauregui @NormaniKordei @AllyBrooke @FifthHarmony".
Fifth Harmony greeted Sabrina [via Twitter] on 2015 with a caption of "Congrats to our girl @SabrinaAnnLynn.. Her new album #EyesWideOpen is out today!".
Both of them already have a song together called "Santa Claus is Coming to Town" by DNCE released on 2016 (where Fifth Harmony, Sabrina and other artists are featured on the song).
Camila and Sabrina hung out backstage at the Jingle Ball.
They sparked collaboration rumours.
Sabrina followed Camila on Twitter since April 3, 2017.
Sabrina presents BEST POP to Camila at EMAs 2017.
[1] Camila has said that she admires Rowan (Sabrina's bestfriend and co-star on Girl Meets World) and Sabrina.
Sabrina replied on Camila's picture on Twitter with a caption of "camila u r so hot !!!" on Oct 15 2018
[2] Sabrina talks about Camila on her interview on Radio Disney (April 2019)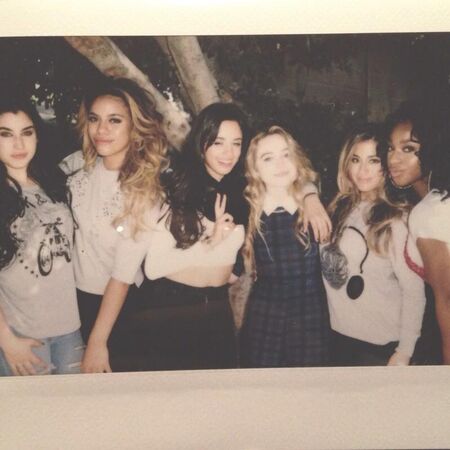 References
Edit
2. [2] Sabrina talking about Camila (April 2019) Edit
Community content is available under
CC-BY-SA
unless otherwise noted.