Taylor Alison Swift is an American singer-songwriter. One of the most popular contemporary female recording artists, she is known for narrative songs about her personal life, which has received much media attention.
Background
Edit
Camila became friends with Taylor through her former boyfriend, Austin Mahone, who is also friends with Taylor. Taylor even threw Camila a party for her eighteenth birthday. The guests included Selena Gomez, Hayley Williams, Sarah Hyland, and Zedd. She and her Fifth Harmony group mates even attended Taylor's Billboard Music Award after-party on May 17, 2015. Fifth Harmony even got to perform their mega hit "Worth It" with Taylor when the 1989 World Tour hit Santa Clara, California on August 14, 2015. [1]
"The reason we became friends was purely because we think the same way about a lot of things: We're both really sensitive and emotional when it comes to love," Camila explained. "We love love, and we love writing songs about love."
Friendship
Edit
Camila told a news outlet that "We talk about love a lot and if I ever have any questions about love or if there's anything that I'm going through at the time, whether it's with a boy or with a friend," she responded. "She's a very good person to ask those kind of questions because she is very knowledgeable about that kind of stuff," she said.
Camila was supposed to be in the "Bad Blood" music video, but turned it down due to Fifth Harmony commitments.[2]
Fifth Harmony performed "Worth It" at the 1989 tour.
Taylor has given Camila boy advice.[3]
Camila loves Taylor's song "Look What You Made Me Do".
Camila taught Taylor and her squad the "Work From Home" choreography.[4]
Fans call their friendship "Taymila".
Camila said that she would turn to Taylor for relationship advice.
When Camila was asked about collaborating with Taylor, she said, "That would be really cool, I'd be down. She's a great writer."
Camila said about Taylor in an interview, "It's crazy, but I don't act like I didn't. She'll be like, 'When this happened…' and I'll be like, 'That's what you wrote Love Story about!' I feel like she knows, because I'll randomly text her when I'm listening to Enchanted and be like, 'This song is so good!' It's cool that I get to be on the inside of the 'thing' because I was a big fan of it for so long."
Camila opened up about Taylor to Cosmopolitan.[5]
Taylor calls Camila "Baby C".
Camila joined Taylor and Charli XCX as a support act for Taylor's Reputation Tour.
Camila said that she must spend more time with Taylor.
Camila joined Taylor and Halsey at AMA's in performance "Shake it off".
Taylor were at Camila's 18th Birthday.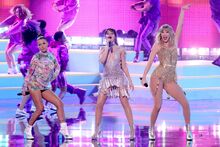 References
Edit
Community content is available under
CC-BY-SA
unless otherwise noted.