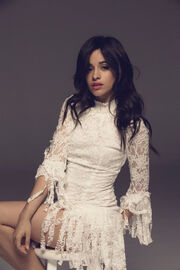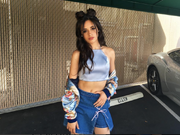 Her departure from the group was announced in December 2016.
On October 14, 2016, Cabello released a joint single with American rapper Machine Gun Kelly called "Bad Things", which reached a peak of number four on the US Billboard Hot 100.
She was included on Time's "The 25 Most Influential Teens of 2016" list.
On February 28, 2016, she announced she had partnered with Save the Children to design a limited-edition "Love Only" T-shirt to help raise awareness of issues involving girls' equal access to education, health care and opportunities to succeed.
In June 2016, Cabello with producer Benny Blanco and members of the nonprofit arts organization OMG Everywhere, helped to create the charity single "Power in Me".
Taylor Swift threw her a birthday party.
She loves coconut water.
She proudly roots for Brazil's national football team.
She admitted that after leaving her phone in the car during a night out with Taylor Swift after the 2016 Grammys — and getting home at 6 a.m. — her parents weren't too happy with her.
Her great-grandfather Proculo fought with Emiliano Zapata during the Mexican Revolution in the early 1900s.
Her favorite book is "The Book Thief" by Markus Zusak.
Instead of having a quinceañera, Cabello's mom, Sinuhe, says that Camila asked to audition for "X Factor".
Camila in 2017 said that 'a little over a year ago,' whilst penning her music in hotel bathrooms, 'I was completely broken during that time, I was in the kind of pain that's uncomfortable to talk about, and it was the kind of chapter you never want to read out loud...' she said. 'I couldn't write another song for 6 months because writing meant I had to feel everything.'
She voiced a character in Barbie.
She had to leave a Fifth Harmony show due to her anxiety, and has struggled with anxiety a lot.
She wrote music whilst on tour and recorded songs in hotel bathrooms.
Camila's favourite 7/27 song is Write On Me.
If she could play a romantic role, it would be Ally from The Notebook.
Camila has said that one of her favourite songs is "Hear You Me With" by Jimmy Eat World.
On Twitter and Instagram in 2016, Camila's bio was "90 percent emo lyrics and 10 percent dad jokes".